Running is surely an amazing, healthy, intense, & high-impact activity that is always enjoyed by people of all ages worldwide. No doubt, running is extremely beneficial when it comes to mental and physical health but there are some inherent risks associated with running such as shin splints. I would like to share that shin splints are considered as one of the most common and annoying inquiries runners can experience thus creating a sharp pain around the lower legs or shins.
If you are among those who have ever had the hard luck of experiencing a shin splint then, you are not alone. As around 15-20% of the running injuries are associated with shin splints every year. Fortunately, runners can avoid these injuries by wearing good quality & right footwear. Because the shoe people wear will surely make a huge difference to their shin splints.
Remember, Best shoes are always paired up with socks, having good quality compression socks can also help you a lot in reducing pain and helping to excersise better.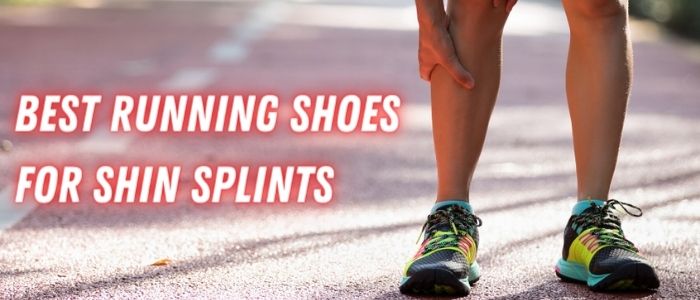 The right type of shoes plays a vital role in preventing & running through "shin splints". Because wearing proper supportive running shoes can reduce the pressure on the shins. Keeping the importance of right footwear for shin splints in mind, this article is going to share the worth reading information about the best running shoes for shin splints currently available.
What are Shin Splints?
Basically, runners can go through this medical problem due to the inflammation of bone tissue, muscles, & tendons around the tibia. Usually, the pain arises whenever muscles join the shin (tibia's inner edge) or bones. It is a widespread exercise problem that commonly develops after intense physical activity but often linked with running.
It is important to note that spin splints are more common among beginners who are not increasing their range gradually. Beginners should try to build their mileage gradually because this will give the muscles sufficient time to repair & build themselves.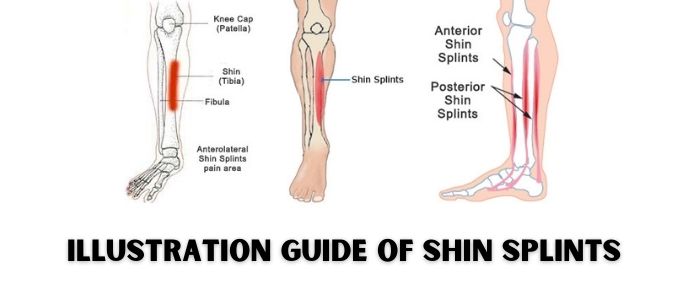 What are the Symptoms of Shin Splints?
Some common symptoms are as follows:
Tenderness & pain the lower legs
Radiating pain along the shin & inside of the leg
Severe pain on the legs between the ankles and knees
Sufferer cannot flex his/her toes up towards the shin without discomfort or pain
Well, all the pains in the lower leg might not be due to shin splints.
What Actually Causes Shin Splints?
The major reasons behind shin splints are given below:
Heel striking
Muscle imbalance or inefficiency
Lack of stretching
Overpronation
Improperly fitted or worn-out running shoes
Whatever the reason is, a shin splint is a very distressing condition that requires proper medical advice. But to be on the safe side, it is advised to wear the right shoes. The best running shoes for shin splints give ample cushioning along with malleable soles & comparatively low heels.
Reviewed: The Best Running Shoes for Shin Splints
All those who have been diagnosed with shin splints recently, they might have problems with daily exercises & walk. Nevertheless, with the right kind of shoes, people can tackle the issue easily. Because the best running shoes for shin splints always ensure that the legs are not going to experience the annoying pain again when it comes to achieving fitness goals.
1. Brooks Men's Adrenaline GTS 20
Brooks brand is famous for its well-made and high-quality running shoes & the brand certainly does not disappoint buyers with this particular product. Due to its amazing cushioning and shock absorption, it is a recommended option for all those suffering from shin splints. Well-known for brilliant motion control, the Brooks Men's Adrenaline GTS 20 features a diagonal roll bar for keeping feet stable with every stride.
Moreover, the cushioning gives due to softness and comfort without being very cozy to feel unsupportive. The best thing is that these shoes are unexpectedly lightweight, given the required supportiveness and stability. The shoes are also good for over pronation.
Pros:
Soft & balanced cushioning
Modernized fit
Perfect support & cushion
Comfortable and light
Breathable
Cons:
Mesh lining can tear off with the passage of time
User Experience:
According to users, the support and cushioning offered by this product have virtually reduced the frustrating pain of shin splints. Few users have commented that Brooks Men's Adrenaline GTS 20 shoes give consistent fit & support for pronation. The shoes are lightweight, great & super comfortable. On the other hand, some users have mentioned that no doubt the shoes are comfortable & fit perfectly but unfortunately, build quality is not up to the mark.
2. Brooks Ghost 11
These shoes also come under the category of the best running shoes that are specially designed for the sufferers of shin splints. Even though the shoes are a bit pricey, but there is still a lot to appreciate about Brooks Ghost 11 running shoes.
Moreover, the shoes are highly recommended for runners with high or medium arches and neutral pronation as they have ultra-comfortable and soft cushioning along with a lightweight foam midsole. Apart from this, the shoes feature amazing shock absorption in order to reduce pressure on the shins. The best thing is that these shoes are available in fifteen beautiful colors & style options to cater to the needs of passionate runners.
Pros:
Soft and balanced cushioning
Stable and smooth ride
Secure and soft fit
Flexible and lightweight
Comfortable and worth buying
Cons:
Might not offer much support while standing for longer times
User Experience:
The majority of the buyers love these shoes due to the great arch support. The shoes are extremely comfortable and give the required support. According to some others, these shoes are sufficiently wide on the forefoot however, still supportive and give perfect heel balance while running. The majority of buyers have highly recommended the Brooks Ghost 11 shoes to all those who are looking for the best running shoes for wide feet.
3. HOKA ONE ONE Mens Clifton 6 Running Shoe
An amazing and worth buying product for the sufferers of shin splints. Lightweight materials and simple design collectively make HOKA ONE ONE Mens Clifton 6 running shoes the most desirable product. Its ultra-soft cushioned design gives people complete access to the breakthrough shoes that will not lead to troublesome problems for instance shin splints.
These shoes are recommended for seasoned veterans. Being a high-quality cushioned shoe, it is extremely light on the feet. Apart from the relatively soft insole, its midsole foam offers another level of safety & comfort. Additionally, the shoe maintains a rocketed and geometric design for promoting sufficient efficiency with respect to sudden change for one surface to another.
Pros:
Insole is quite firm to prevent squishiness
Wide forefoot and midfoot for the spacious fit
The shoes come with double-stitched reinforcements
Lightweight and comfortable
Fits perfectly
Cons:
Might not be a good option for long runs or pro-athletes
User Experience:
Many users love the fact that these shoes are available in a stunning Antigua sand and wan blue colors along with different sizes ranging from 5-11 with special coverage for very wide toes as well. Some users have commented that these shoes have helped cure shin splints pain. In short, extremely supportive shoes with plenty of cushioning for running and walking. Well, on the other hand, few buyers have issues with the colors. Because colors look more creamy in reality.
4. HOKA ONE ONE Mens Arahi Running Shoe
A perfect choice for those who are tired of falling down repeatedly due to the rough cushioning of their shoes. I would highly recommend HOKA ONE ONE Mens Arahi running shoes to fulfill the day-to-day wear needs successfully. This particular product imparts people with a truly stable 7 & comfortable shoe that has been beautifully paired up with the breathable upper & reflective and stunning heel design.
When it comes to comfort, these shoes feature a j-Frame midsole to ensure sufficient support, especially for overpronators. Furthermore, the shoes have a strong EVA foam design in order to ensure that there is not a problem with pain on heels or shins.
Pros:
Offer sufficient forefoot cushioning
Responsive and light
Enough traction along with energy dispersal design
Firm yet flexible
Durable lace design
Cons:
Meant to be a tad especially on the heavy end
User Experience:
The majority of buyers have commented that if you are searching for the natural foot pressure distribution throughout the regular walks then, this product will serve the best purpose. Regardless of the cushioning and comfort, these shoes give trail stability along with the required grip on wet ways due to hardy outsole. The shoes are lightweight & feel very comfortable during running. Super comfortable & great fit. Highly recommended.
5. Brooks Men's Addiction 14
Another famous running shoes designed by Brooks brand, the Men's addiction is great for runners who are looking for some assistance concerning pronation OR who are facing the problem of feet rolling during running. It is vital to mention that the shoe's diagonal roll bar always helps reduce pronation while promoting smooth transitions.
Furthermore, the cushioned midsole of the shoes ensures a comfortable ride. No doubt, the shoes are stable, comfortable, and lightweight in order to help people maintain the right form & prevent shin splints. The Brooks Men's addiction 14 shoes are recommended for both walkers and runners.
Pros:
Maximum support & generous fit
Best for pain relief
Extremely soft cushioning
Sturdy lace-up closure
Super comfortable & light for running and walking
Cons:
Better to select the right size as the size chart is bit complex
User Experience:
According to the users, these shoes are available in wide and regular widths thus, making it a great choice for those who are looking for extra space when it comes to orthotics or wide feet. For some, the shoes seem very supportive and solid & fit well. In short, people are happy with their purchase because the shoes are supportive, bouncy, and comfortable.
Buying Guide: The Best Running Shoes for Shin Splints
It is impossible to buy shoes randomly especially when the purpose is to cure shin splints. Repetitive pressure over someone's shins will definitely lead to a painful condition known as Shin splints. This condition is due to the swelling, pain, and inflammation of the shin. In spite of this, the greatest enemy of the shin splints is the continuous usage of improper or worn-out running shoes. Buying good quality & proper footwear can help people cure shin splints.
How to Select the Best Running Shoes for Shin Splints?
It is advised to consider the following factors while buying the perfect pair of running shoes;
Support
No doubt, it is the most important factor that should be considered while selecting the running shoes for shin splints. Better to consider the running style & afterward select the shoes that can give ample support to ankles and feet.
Shock Absorption
Usually, the basic reason behind shin splints is frequent shocks to one's shins. Thus, running shoes with great shock absorption ability are surely recommended for people suffering from shin splints.
Cushioning
I would like to share that the cushion gives comfort & breathability. Ample cushioning in various important parts of the shoes will help people increase strength & endurance to eliminate annoying pains. Therefore, it is suggested to select a pair that comes with the required cushioning characteristics.
Shoe Fitting
This factor is important for everyone. People should find the running shoes which fit their feet perfectly. The simplest way of getting the feet injured is by buying ill-fitted running shoes as people cannot just hurt their feet but also legs, knees, and sometimes back as well.
Breathability
Even though the capability of the running shoes to breathe might not affect shin splints but, this factor will surely make the running shoes extremely secure and comfortable to wear. Moreover, without ventilation, running shoes feel stuffy and hot therefore, it is compulsory for the people to ensure that the shoes are breathable.
Durability & Stability
Well, the longer the running shoes would last, the greater chances people have of preventing shin splints. Battered, old running shoes cannot give the required level of comfort, stability, shock absorption, and support as compared to new shoes. The same goes for stability because the feet have to be at the right place in order to prevent both major & minor injuries.
How to Deal with the Problem of Shin Splints?
In spite of using premium-quality running shoes for shin splints, the majority of people also use an old-aged technique in order to ensure that the shin does not cause them pain throughout their long-term running sessions. Well, the technique is to wrap the legs from above the ankles to the point directly below the knee. Try to do it whenever you decide for the quick run.
How Runners Can Avoid Shin Splints While Running?
It is worth mentioning that if runners are planning to get rid of this annoying problem i.e. shin splints then, they should try buying the well-designed running shoes. Apart from this, they can also do the following things:
Maintain a good yet healthy weight
Strengthen your hip muscles
Exercise gently
Avoid prompt physical activity
Stretch the calves or hamstrings
Is it Safe to Run While having Shin Splints?
Never, it is not recommended to continue running while having shin splints because added pressure can lead to severe bone fracture along with added pressure to the bone's upper ends & surrounding muscles.
What are the Few Important Tips that can reduce the Chances of Shin Splints?
People can follow the below-given tips to address shin splints in a better way:
Buy running shoes that fit perfectly
Whenever you experience shin splints after running try to opt for some other exercise
Change the surfaces you select for running
Avoid over-striding
Warm-up is important before running
Conclusion:
Overall, it can be concluded that with all the above-reviewed best running shoes for shin splints, people can easily take care of their shin splints problems. After buying and selecting the right running shoes, people can tackle the issue even before it arises. Moreover, the best and good quality running shoes for shin splints always ensure that the legs do not have to experience the aggravating pain. In short wearing, the right running shoes for shin splint can go a long way when it comes to preventing the upcoming episodes of pain.