A pair of good quality compression shorts are considered an important part of every passionate athlete's wardrobe. They increase oxygen in the body while improving the muscle & speeding up recovering from bad muscle soreness. Compression shorts are specially made from a stretchy material to produce compression in the thighs and hips.
Different studies have proved that compression shorts offer instant relief from hip pain while improving athletic performance & preventing injuries. Compression is good for increasing blood flow, preventing stain, and reducing muscle fatigue. The majority of people wear compression shorts during exercise to fully enjoy recovery and warm-up benefits.
Compression shorts are good for many things like the pain you have after hip replacement surgery, or Hamstring, Thigh, and Groin Injuries among many others. you may also want compression knee sleeves for running support.
What Causes Hip Pain?
According to studies, the basic reason for hip pain is a sedentary lifestyle. Excessive sitting can cause the body's muscles to remain deactivated. As a result, they can become progressively shorter and weaker, sometimes leading towards adaptive shortening, an extremely painful condition.
5 causes of hip pain for women explained below, check that out.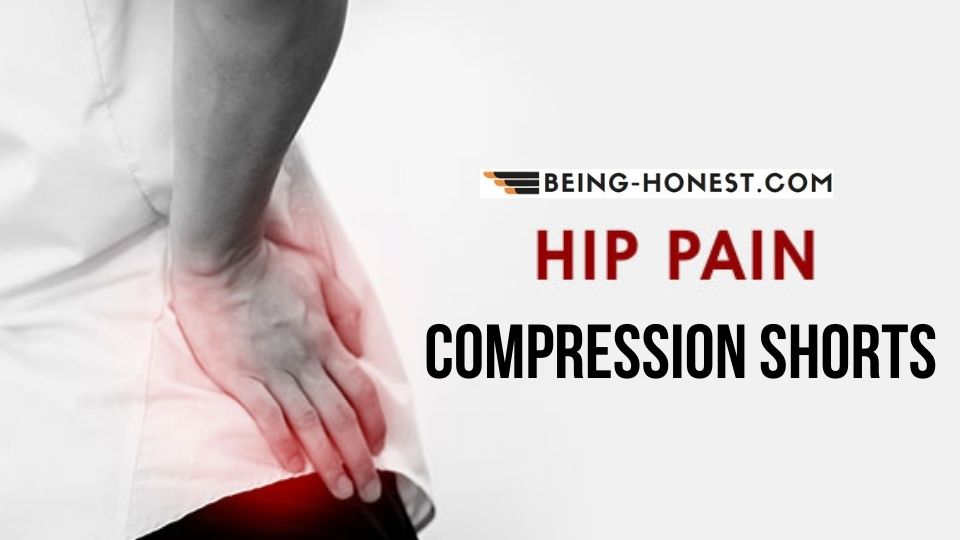 Reviewed: The Best Compression Shorts for Hip Pain
This article is going to review the best compression shorts for hip pain that are currently available. Readers will find out what they should consider while purchasing compression shorts & examine the various types of compression shorts specially designed for hip pain.
1. McDavid Cross Compression Men's Performance Boxer Hip Flexor
It is a support-based compression short designed by one of the best and well-known brands, McDavid. This product gives people with muscle balance that is similar to the mimicking taping techniques used by professionals when it comes to muscle recovery.
Moreover, it gives extensive support & snug compression in order to help keep sports persons active while reducing muscle strain. In short, the McDavid compression shorts are a worth buying product due to a number of good reasons. The product is all about optimal breath-ability & support for hamstrings, hips, and thighs.
Pros:
Extremely durable
Amazing compression & support for hip flexor
Perfect combination of performance and compression
Offer protection against hyperextensions and muscle strains
Cons:
Sizing needs improvement
Color options are limited
2. BioSkin Compression Shorts
Another great recovery-centric product offered by BioSkin. In short, the BioSkin compression shorts are designed with recovery and treatment in view as people train. Few injuries like hip flexor pressures, groin strains, and hamstring strains can lead to grueling and slow recovery processes. Moreover, sufficient support is required if people want to continue training as they heal.
These compression shorts are beneficial in pain reduction, better performance, good blood circulation & a fast recovery process. The best thing is that it has a groin wrap to give more compression and support whenever needed. Also check out the sizes before you opt to buy,
Pros:
Made of a top-quality material to ensure breathability and durability
Highly compressive
Enhanced performance
Strong and thin
Cons:
Available in just one color
It is difficult for some people to use groin wrap successfully
3. CW-X Men's Stabilyx Ventilator Joint Support Compression Shorts
These worth buying and machine-washable compression shorts are perfect for all those who are trying hard to get the complete support & reduction in muscle vibration that is required during the workout. Additionally, the CW-X compression shorts are specially designed to help support abs and hips along with the back.
The product is capable of increasing the body's efficiency so people can remain active longer & recover faster. It also has an original EXO-WEB support panel in order to contour the joints to give stability and support without even restricting the body's overall range of motion.
Pros:
Perfect at moisture wicking
It gives optimum support for hips and hamstrings
Help athletes to maintain perfect back and core posture
Features mesh panels
Cons:
Well-made but, too much tight
4. Neleus Men's 3 Pack Compression Short
No doubt, these 3 pack compression shorts designed by Neleus are best for hip pain or daily wear. It is made from a durable spandex and polyester blend, the lightweight & streamlined fabric that will remain comfortable throughout the day. Moreover, it is capable of wicking moisture in order to keep skin dry & the seams are carefully designed for keeping the skin safe and away from chafing and irritation.
Right now, it is available in seven different styles to cater to the diverse needs of the wearers. Its remarkable compression design will surely enhance muscle power while decreasing recovery time.
Pros:
Fast drying & moisture wicking
Elastic closure
Machine washable
Premium quality
Comfortable clipping
Cons:
May not be sufficient compression for passionate runners
FAQs: Answered the Best Compression Shorts for Hip Pain
As mentioned earlier, the best compression shorts are considered good for hip pain due to the immense comfort and support that they provide to the joints and muscles during exercise, running, and workout. But, it is quite complicated to select the best one. So, now that readers have the different options to check out, I am going to share some other factors that should be given due attention while making a buying decision.
Why is it Important to Buy the Best Compression Shorts for Hip Pain?
One should consider buying the best compression shorts due to following reasons,
Strain prevention
Reduced muscle/joint fatigue
Better perceived exertion
Improved muscle oxygenation
Increased power
Groin support
Comfort
How to Select the Best Compression Shorts for Hip Pain?
Better to consider the following factors while making a buying decision,
Length
Level of compression
Secure fit
Under versus outer
Tights vs. shorts
Comfort factor
Is it Safe to Wear Compression Shorts to Treat Hip Pain?
Yes, the only solution is to wear compression shorts. Because, in the compression design stability & control are the key players therefore, both factors help control the wearer's form in different swing motions thus, it will lead to reduced pain.
Verdict
In the end, it can be said that compression shorts for everyone from women to men, from tall to short when it comes to hip pain. It is highly recommended to consider the needs and preferences and how people will be wearing them. If people need support in a few areas, it is important to get exactly what is required. From affordable prices to top-quality designs, readers can get the one that will work best for them on the top 4 recommendation list shared in this article. In addition to compression shorts, we also have a great review on compression socks.