To answer the question What is the best pan for poaching eggs?, we are presenting what we thought was the best out of others available on amazon. Also find over all best poaching equipment.
The colors of egg poachers in a well-decorated kitchen can be a concern sometimes. Especially plastic egg poachers. They hardly blend in with your pots and silver spoons. Hell, they hardly blend in with anything in the kitchen. If you're looking for egg poachers that look like an actual pot then you should get ExcelSteel 521 Stainless still Egg Poacher. But that's not why it's the best poaching pan.
ExcelSteel 521 Stainless Steel Egg poaching pan is a pan that looks like your pot or cooker but with 4 removable poaching cups on the inside. And like your pot or cooker, it comes with a glass cover with a handle.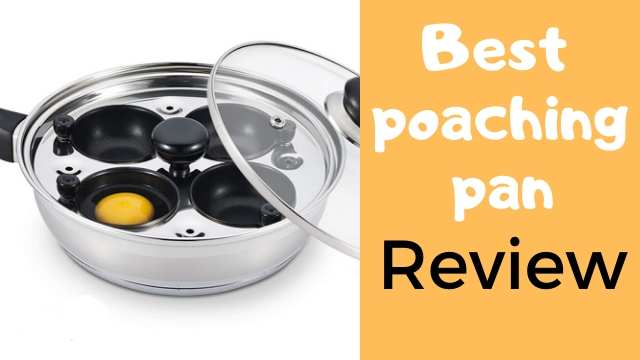 The pan is made of stainless steel so you don't have to worry about non-stick chemicals getting into your food.
Pros
They can poach extra-large eggs
They are very easy to clean and maintain.
They are dishwasher safe but most buyers handwash theirs
They are made in USA
You can use it on an induction stove without any issues.
The cups in the pan are non-scratch stainless steel as well and they are easy to clean.
All the cups in the pan come with handles
Cons
They are not multipurpose.
They are not non-stick. It is made of pure aluminium steel
It's hard to get the eggs out when the entire pan and cups are hot you have to put it in the sink or just wait a little.
Features and Specifications
4 Stainless steel poaching cups
Microwave friendly: No
FDA Approved: Yes
Dishwasher safe: Yes
BPA Free: Yes
Multipurpose use: No
Heat Resistant: Yes
Retains Nutrient Quality: Yes
ExcelSteel 521 Non Stick Easy Use Brunch Induction Cooktop Egg Poacher unboxing
Buying guide (What to consider when buying an Egg Poacher)
Look out for long-term-use Egg poachers: Most egg poachers don't last. That's if they don't ruin your eggs or flip over while you're poaching or melt in the microwave. Please be on the lookout for egg poachers and poaching cups that would last you for years.
Look out for user Reviews: I keep saying it, the best way to find out what people are saying about a particular egg poacher or poaching cups on Amazon is to check the comments, ratings and the questions and answers about the product. This is where you would find complaints from users who returned it and praises from users who are enjoying the product. Be sure to check.
Heat Resistance: Some silicone and plastic egg poachers will melt in the fridge if they are fake or not recommended for microwave use. It is usually stated in the description of the product. You can ask if the egg poacher or poaching cups are heat resistant before buying.
Note: Most egg poachers are fake.
The base of the pan or cups: Some poaching cups tip over when you put them on a cooker. Others get very shaky. You should find out how stable the poacher or pan is in a cooker or Microwave. It would save you a lot of stress. Microwave poachers do not really need to have any special type of base.
Other needs: Most egg poachers can be used to melt chocolates, cook veggies, store spices and even more. Sadly, not all egg poachers can do this so be on the lookout for other things the egg poacher you would like to buy can do.
Most importantly, remember your preferences. You should not buy a microwave-only egg poacher when you prefer poaching your eggs with electricity. This is important because most egg poachers and cups are not multipurpose and you would feel cheated if you buy a single purpose egg poacher.