I have realized that no matter how well you poach an egg in a traditional pan, it would never have the same texture as a poached egg that was made with an egg poacher. The difference is usually very clear. We are here to help you find the Best egg poacher available in internet. We do all the experiments so you don't have to.
Most people love to order poached eggs from restaurants but can't make them at home because they won't get that round-shaped poached egg result that looks perfect on a plate. Some say they tried creating a vortex in a boiling hot water on a traditional pan but it did not come out as expected.
You need an egg poacher to poach the perfect egg, no doubt. But what happens when you find tons of egg poachers on Amazon? How do you decide the best one for you?
Urrgh, don't overthink it. I will be showing you the best 3 egg poachers on Amazon in this article. That's not all. We will also be looking at the best silicon egg poacher and the best electric egg poacher.
Our 3 TOP rated egg poachers quick list:
The Top 6 Egg poachers in every category:
1. Dash Rapid Egg Cooker: 6 Egg Capacity
There are no perfect poached eggs out there. You must have heard that in a restaurant or your favorite food channel on YouTube but I disagree with that fact. The makers of Dash Rapid egg cooker also disagree.
One of the best things are that not only its good to poach eggs but also its great to keep the eggs stores after poaching.
Dash Rapid's egg poacher comes with 6 plates for 6 eggs should you choose to poach more than 1 egg any day. It can be used to cook eggs to soft, hard or medium texture and it does it perfectly. This egg poacher comes with a container that measures different water levels. So if you would like to cook a soft egg then measure the level of water that would be needed to cook the eggs soft with the container. It's pretty explanatory when you get a hold of it.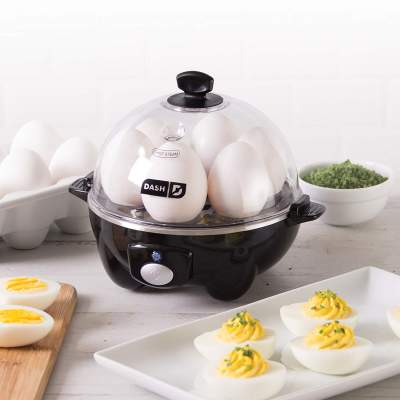 In your every day life, when it gets busy and you still want to take care of your daily routine and make your self a great poached egg, you have the solution, not only me, almost 20,000 people reviewed this products and many more bought this because its one of the things which make your life easier.
Another reason why this egg poacher is loved by a lot of consumers is that it doesn't require any technical jargons or experience to set up. It's like buying your favorite electric pot from the store. All you need to do is fill it with water, put your eggs in it, cover it and switch it on. Your eggs will be ready in no time. The eggs usually takes 8 to 15 minutes to be ready.
The egg poacher is automated and would stop by itself once your eggs are ready. If the lights on the egg poacher goes off then it means the egg poacher has turned itself off. It would also stop when the water levels run out so it doesn't burn or damage the eggs. For the safety of your eggs, there is a pin in each of the 6 plates of the egg poacher that prevents the eggs from cracking and also lets steam out while the eggs are being poached.
Dash Rapid Egg Cooker is also affordable. It only costs about $15 on Amazon and it can be used to make scrambled eggs and Omelets. It comes in 5 different colors – Red, yellow, black, aqua and white.
2. Dash Rapid Egg Cooker: 12 Egg Capacity
Apart from having the most ratings, reviews and questions, the best electric egg poachers on Amazon do not require you to upgrade them for very long time. Some of the best overall electric egg poachers on Amazon were made and sold by DASH. Let's take a look at the 12-capacity egg poacher by DASH.
DASH DEC012BK Deluxe Rapid Egg Cooker is a double decker egg poacher/cooker that can cook 12 eggs at the same time. It's a deluxe version of a 6 capacity Dash Rapid Egg Cooker.
The egg poacher is safe for kids and doesn't require monitoring. You can turn on the cooker and go do something else. It would turn off by itself once the eggs are ready. It can be used to cook or poach both small and large eggs as well.
It's also very versatile so you can make an omelet or steam your vegetables with it. You can also use it to boil your eggs hard or medium when you don't need to poach them.
It comes with 1 year warranty, a manual, an omelet bowl, a poaching tray, a measuring cup and all the usual extra parts that comes with an electric egg poacher. All the non-electric parts of the device can be washed with a dish washer.
It comes in various colors depending on your preference or kitchen color.
3. Maxi-Matic EGC-007 Easy Electric Egg Poacher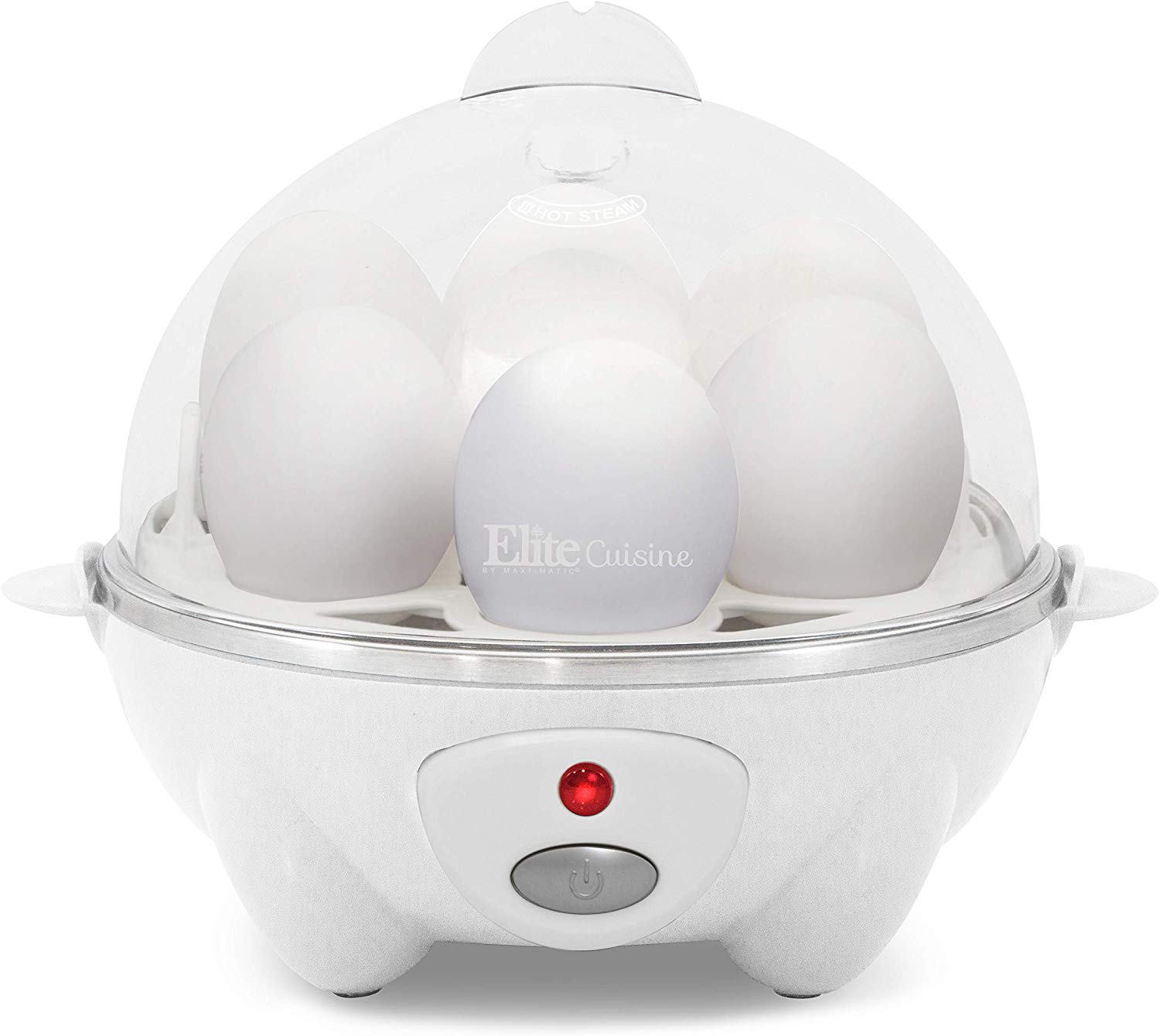 Maxi-Matic electric egg poacher is similar to other electric egg poachers in the market but it has some really cool features that separates it from the rest.
Features:
Auto Shut-Off
Buzzer
Measuring Cup Included
BPA Free
Capacity 7
Egg Poacher, Omelet, Scrambled
This egg poacher comes with a 7 egg capacity tray that lets you cook your eggs soft, medium or hard. It also comes with a measuring container, just like other electric egg cookers. The measuring cup or container allows you to measure the volume of water needed to cook your eggs soft, hard or medium. It also comes with 2 separate removable poaching trays that are made of plastic that doesn't melt, an Omelet tray and an egg rack that can take 7 eggs. It comes with a manual as well but I doubt you would need it. The device is quite self-explanatory. All you would need to do is plug it to a power outlet and start using it.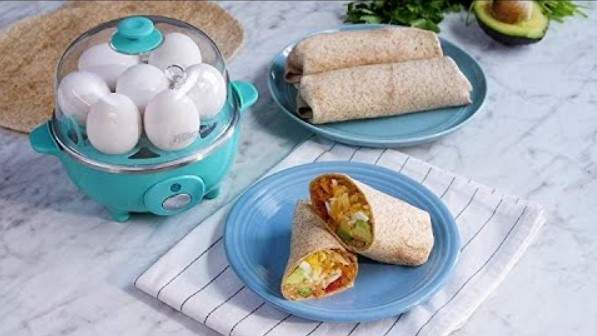 I won't forget to mention that the design of the egg poacher is one of the most beautiful I have seen on Amazon.
The sleek power button on the cooker makes a buzzer sound before going off once your eggs are ready. The cover of the cooker is a clear plastic that allows you watch the eggs while they are cooking or poaching.
The separate egg rack can be used to move the eggs to cold water after cooking. They eggs are super easy to peel once you get them under cold water.
This egg poacher is quite affordable and it would take only 8 minutes or less to boil or poach your eggs with this device.
4. Egg Poacher – COZILIFE Silicone Egg Poaching Cups
Silicone egg poachers have been around for a long time. Even long before electric egg poachers but they were not known as silicon egg poachers.
At first, everyone came up with smart ways to poach an egg in small cups and plates but it did not go so well. Some containers were really sticky and would mess the eggs up if you tried poaching with them. Egg poachers were later made in 1937.
COZILIFE Silicone Egg Poaching Cups are the best, most popular, most reviewed and one of the cheapest silicone egg poaching cups on Amazon. This FDA approved egg poacher comes in a pack of 4 and they are all none toxic. They also come in different colours, the four of them.
It did not just make this list because it's one of the best, I added it here to remind you that you can poach eggs without an electric egg poacher and you don't need any extra materials to make this happen. All you need is your eggs, cooking pot or pan and your stove or cooker.
You can also use it in your microwave because it is like your plastic plate and it's completely safe for your food. Some foods like scrambled eggs might stick to the poacher when you use a microwave to make them. You would need to spray the poacher with a non-stick spray to prevent the eggs from sticking on the poacher. The possibilities are really endless with this silicone egg poacher and you can only be limited by your imagination or need for the egg poachers.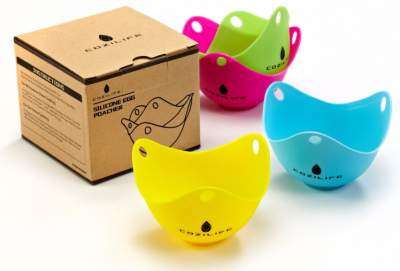 This silicone egg poacher can also be used to cook or make other foods in the kitchen. You can melt chocolates with it, heat up small foods or steam your vegetables and other foods.

I highly recommend this silicone egg poacher for you if you pay a huge amount of money for electricity each month or week. Unlike electric egg poachers, this silicone egg poacher works with your gas or stove cooker so you don't have to worry about adding it to your electricity bill. You should also go for it if you have electricity issues in your apartment or home as it does not require electricity to work.
The best silicon egg poacher is Cozilife's Silicone Egg Poaching cups. Hands down the best. This is also Amazon's Top Pick on the store.
This egg poacher never tips over while in use. It has a very steady base that won't shake in pots and microwaves. Speaking of Microwaves, you can also use the poaching cups for other things around the house. It is not limited to egg poaching alone. The poachers can also be stacked on top of each other when you're not using them. You can also use them to store foods in the fridge.
All of these are what makes them so unique. There are no limits to what you can use these egg poachers for. They are also very affordable, FDA approved and they would never melt.
5. Nordic Ware
In this category, this is the best egg poacher out there with extremely good quality and great customer reviews. This egg poacher is also dishwasher safe.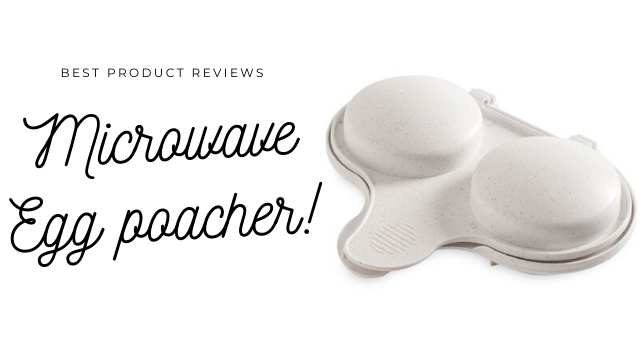 6. OXO egg cups
This specific egg cup poacher is designed to mimic traditional water bath poaching method. All you have to do it to put these cups in the boiling water, the holes design in the bottom helps keep the free water flow. And the silicone material is heat resistant and easy to clean.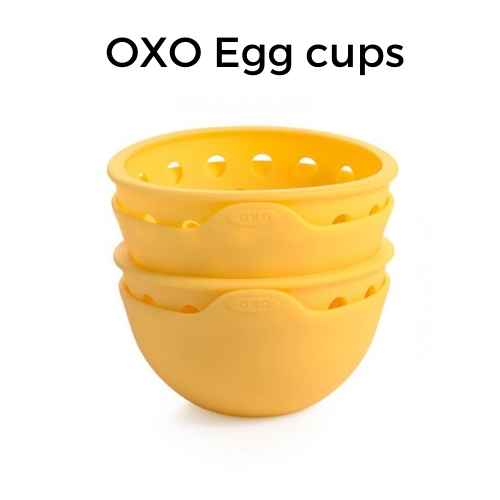 We found a nice video on how to use egg poacher
What to look out for when buying an Egg Poacher
Non-stick:
You should look out for non-stick egg poachers as they are easier to clean and maintain. They also help you poach the perfect looking eggs without ruining the texture of the eggs.
Maintenance:
One of the least things that buyers look out for is how easy it is to maintain an egg poacher. You should be worried about this because some egg poachers are not easy to clean. For example, you would need vinegar to clean a Dash Rapid egg poacher properly. Silicone egg poachers on the other hand are very easy to clean because they are plastic and you would most likely spray them with non-stick spray before using them. Just throw them in the sink and that's it, they would be clean after a single wash, just like ceramic dishes.
Most egg poachers are not dish washer friendly. Be sure to check if the non-electric parts of your egg poacher are dishwasher safe before you dump them into a dish washer.
Cooker balance:
Do eggs in the egg poacher tip over while poaching or boiling? Are the plates stable? If these questions are not already answered on the product's page then you should be asking them because some egg poachers could tip over and spill the eggs into the boiling water while cooking. This is common among silicon egg poachers. Electric egg poachers are usually fitted and intact.
Multipurpose Use:
Some egg poachers, especially silicon egg poachers can be used for other things in the kitchen. You can use them in microwaves to warm foods or bake cakes. This is a huge plus for buyers as it saves them more money on miscellaneous plastics and containers. You would not need to buy extra plastics in the house if the egg poachers you have can be used for other things.
Returns and Refund:
Check for the warranty of the Egg Poacher, especially electric Egg Poachers because they can easily be damaged by electricity.
Questions and Answers:
The best and most popular products on Amazon have this section just below the description of the product. Here, all questions about the product are asked by buyers and answered by their sellers or manufacturers. Be sure to check this part while buying a product. You can ask your own questions as well. You will also find product images around that section.
Check for egg sizes:
Some egg cookers would not close properly if you put large eggs in them. This happens to old electric egg poachers a lot. Be sure to confirm if the poacher can take all egg sizes before buying it.
Check out other articles like best knee sleeve and best pillows