Regardless of the remarkable technological advancements, a bike is considered as one of the best and beneficial human inventions. Effective, compact, simple, environmentally friendly, affordable & one of the greatest exercises out there,indeed it is a tribute to human creativity. The joy and excitement behind riding a bike in outdoor settings are the simplest forms of entertainment and exercise. Moreover, for the biking avid, it is a ritual that has become an important part of his/her daily routine.
Cycling always offers a lot of health advantages but, selecting the best comfortable bike seat especially for women riders is a little tricky because according to experts'the anatomy of a woman is quite different for a man. Furthermore, the comfortability of bikes depends on the bike seat that you are going to select.
Remember that the comfort level not only depends in the comfortable bike seat but also the posture of the rider, the shoes used to ride the bike and even the socks used whether they are compression socks or no and last but not the least is the insoles used in the shoes
Why are women's bike seats comfortable while men's bike seats are like hard rocks?
Saying that bikes for women are more comfortable than bikes for men is not a correct assumption per se. It's all about styles. Women are fond of comfort-oriented bikes while men prefer bikes that help them improve the riding performance.
There's a little difference between bike seats for women and bike seats for men. Women's bike seats tend to be a little bit wider at the rear and are quite pointy at the front. They're equally padded.
The same pattern is present across the board, actually. Seats for cruisers, townies and Dutch feature the same design and provide the same comfort.
Most probably, the pointy part of the women's bike seats is what makes the difference here. The rear of the seat is wider and bears a larger space of the buttocks, while their male's counterparts are shorter and not so wide at the back.
A good padding can be solution, though.
What can I do to make my spin bike seat more comfortable?
Making the spinning bike more comfortable consist of a few steps.
The first step is to set up the bike as well as you can. Check whether or not the seat is in position to be seated. The knee should be straight when you sit on it while heel must stand on the upside down the pedal.
Consider placing the handlebars higher to prevent issues with the lumbar spine. Make sure the length between the front of the seat and the handlebars is on the same level of yourelbow and middle finger, but you can adapt it accordingly.
A short is to invest in padded cycling shorts or suspension seat posts, yet these can really cost you a lot.
What is the best seat for long rides on a bike?
It is difficult to choose the best seat to be used for long ides, but the following is rated the best.
The best seat for long rides for many is the Brooks England B17 because it's comfy and durable, albeit a little expensive.
At first, it may feel like it is designed for slow riding during the first months, but later, you see the difference. Its rails that are made of steel are useful for damping road vibrations.
The rear is wide and narrow but has the right dimensions and supports body weight appropriately. It is best to use when there's nothing to carry, to wit, no luggage, no bags, no backpack.
Difference between male and female bikes:
It is a fact that anatomically speaking, men and women are different. Men are bigger and heavier than women, and so are their bikes.
The gap between the saddle and the handlebar is bigger in men's bikes. As to the female counterparts, the handlebar is noticeably shorter. These bikes have shorter stack heights and reach and reduced reach lengths due to the women's torso lengths.
Women should pick bikes that fit their torso lengths to avoid riding uncomfortably. The main difference lies in the types of bikes is the fit, although this feature was not considered in the beginning.
With time, the color pick was not the only feature that differentiated women's bikes from men's. Manufacturers started to shrink these bikes, install larger and pointier seats to make them more comfy. They also removed the horizontal tube which is very typical in men's bikes.
What is the most comfortable mountain road bike seat for women?
What make a mountain bike seat comfortable are the position and the size. The position is what determines how you will be standing while riding. There are hundreds of mountain bike seats to try, but they are not all suitable to everybody.
The most reportedly comfortable mountain is the Serfas Full Suspension Hybrid, which comes with a top layers that keeps from friction while cycling. It is not only protective, but it also has a very attractive design. The manufacturer gives a long guarantee following the purchase.
It is a gel saddle that comes with a rear spring suspension makes it ideal for adventurous cyclists. It uses a progressive foam technology and has a deep groove design.
What is the most comfortable road bike saddle?
A road bike saddle is an asset that improves riding performance in exchange for a comfy riding. Thanks to its radical look and refined split nose design, the ISM PL1 has been ranked the best and probably the most comfortable road bike saddles on the market today.
PL's secret may be in the additional length that improves the performance of the rider. Since this saddle is larger, it reduces crotch and buttock pain when climbing bumpily. It is another version of the ISM prologue saddle, yet with other more attractive graphics.
Its dimensions ensure no problem when rolling back or climbing (135mm – rear section). It can be used for mountaineering, long rides, and gravel cycling. It is like having a stronger and softer ISM version. It is covered with a 40-series foam and gel padding.
Planing a 500+ km ride on a bike. How can I make the ride comfortable and easy?
If you're planning a 500+km ride on a bike, you need to plan it ahead first.
All boils down to outlining timings, halts, weather, food, accommodation, and the most important thing, the route.
When planning halts, ensure you have a clear idea of the road. Since 500 kilometers is a long haul, cover part of the distance on highways to keep away from hilly roads. Take routes with scenic beauty to make the trip more enjoyable.
Packing wisely with the essentials you may need while cycling, that is, water, snacks, and a towel. Keep these items in an accessible place, so you won't need to stop to take them out from the bike.
A 500km ride won't require you to carry a backpack. You can tie your belongings to the bike using a rope or right fasteners.
A detailed list of products
Here is a detailed list of product that are discussed in this article
| | | | |
| --- | --- | --- | --- |
| Name | Brand | Rating | Price |
| Bikeroo's Most Comfortable Bike Seat for Women | Bikeroo | Excelent | Check |
| Comfortable Bike Seat for Women by DAWAY | DAWAY | V Good | Check |
| IPOW Comfort Bike Seat for Women | Serfas | V Good | Check |
Reviewed: The Best Comfortable Bike Seat for Women
There are several top-rated bike seats currently available however, it is still important to remain very careful because only a few bikes can provide the comfort riders will need. In short, it is necessary to select a bike seat that will allow comfortable pedaling while overcoming longer distances easily without any blisters, pain, and discomfort. Keeping the purpose of this article in mind, below are the best and top-selling bike seats for women.
1. Bikeroo's Most Comfortable Bike Seat for Women:
No doubt, this durable and thick-padded bike seat is considered as one of the best products. It is surely a great investment that will make a huge difference by offering numerous health benefits. With Bikeroo's comfortable bike seat, women can easily count on long painless rides & ultimate comfort.
It is worth mentioning that the seat hasa wider design thus making it a perfect option for a woman's anatomy. The Bikeroo's most comfortable and hard-wearing bike seat always upgrades ride quality for the majority of bikes such as exercise bikes, hybrid bikes, road city bikes, mountain bikes & cruiser bikes.
Pros:
Made of top-quality material
Dual spring suspension
Cover is water-proof
Come equipped with adapter, tool, and user guide manual
Smooth finish
2. Comfortable Bike Seat for Women by DAWAY
DAWAY is a well-known company that always prioritizes comfortable and safe cycling. This amazing bike seat offers a taillight feature. It is elastic, soft, non-slip while being wear-resistant thus, gives great protection.
The DAWAY bike seat is also padded with high-density and thick memory foam for protecting the hips. Another mentionable technical aspect of DAWAY bike seat that contributes to the practicability and comfort is its hollow-breathable, dual spring, and ergonomic design to enable women riders to enjoy exciting and healthy long-distance rides.
Furthermore, it is made from durable and tough leather thus it is capable of handling sweat, weight, regular cleaning, vibration, and use perfectly.
Pros:
Give good support due to being extremely comfortable
Best for both men & women
Made from long-lasting and top-quality materials
Easy to clean and install
Fit perfectly on different bikes easily
3. IPOW Comfort Bike Seat for Women
It is another great product on the list of the best comfortable bike seats for women. This remarkable bike seat. It features a full-length channel for protecting the soft tissues from undesirable pressure effectively. The dual-density base of the bike seat is half gel and half foam.
Moreover, its balanced design always ensures that women do not feel uncomfortable after riding the bike for several hours. It is worth sharing that as compared to other higher-end models, this one is quite economical. Finally, it has zero resistance gel-infused padding to optimize saddle comfort & support while minimizing saddle friction & chafing.
Pros:
Double density base technology
Endless comfort system
Steel rails
Ergonomic design
Offer the best value for money
Durable and comfortable
What is the most Women's bike seat cushion?
Finding the perfect bike seat cover is tricky because it depends outright on the physics.
Women's bike seat covers have changed over time. At the beginning, ladies would have problems getting on these seats, because they pulled up their dresses and made them show some leg skin. Women's bike saddles are wider at the right, which reduce crotch excessive pressure.
Going into the material of modern seat covers for women, they are mostly made of MIMIC foam and carbon. There are many types of seat coversthat vary depending on the body of bike and seat.
Other seat covers are made of a special gel that fits all types of bicycles, especially cruiser and Stationary models. These cushions facilitate spinning and keep the saddle dry when it rains or frizzles. Covers don't weigh and don't take up too much space.
The size of these covers varies, but new models are adjustable to any size of seat. When looking for this accessory, make sure it is over 1 inch thick for more protection and comfort. Some can come with non-slip texture, while others don't.
As for the shape of seat covers for women bikes, their shapes are beyond imagination. You can turn your perch into a dog, fox, bear, a pink big-eared goat, or whatever you want to.
In addition to that, there are a slew of models made for underage girls and kids. Basically, they are comics-themed and are made water-resistant. Most of these covers are made for wider gel saddles and you can hand-wash them.
Before purchasing, measure the original bike seat, so you will know the dimensions of the cushion you need.
User Guide
How to Select the Best Comfortable Bike Seat for Women?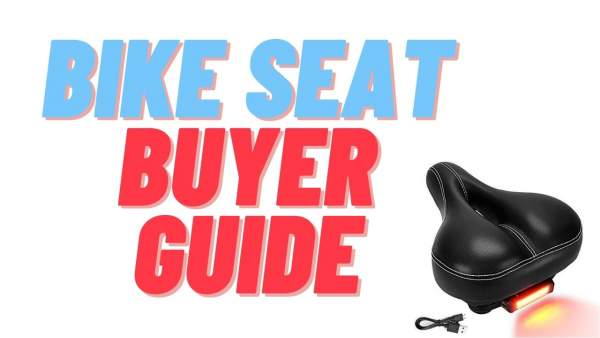 Following factors play a major role during the whole process of selection including,
Type of Cycling
It is vital to mention that bike seats vary a lot when it comes to types of cycling. Some bike seats are specially designed for mountain biking while others for recreational cycling. Some others are meant for bike touring, bike commuting, & road cycling. Therefore, it is important to give due attention to the type of cycling.
Shape & Design
Women bikers should consider the design & shape of the bike seat they are planning to purchase because these two factors play a vital role when it comes to support and comfort. Bike seats have to be wide towards the back in order to support a rider's hips & narrows towards the front so that the rider can pedal comfortably.
Shell
Riders should know that it is an underlying shell that decides the strength, spring, & shape of the seat. Moreover,specially designed bike seat's shell offer support to various physiques.
Extra Specs
It is important to share that there are numerous other style-oriented features on the bike seats, like few feature bumpers and corners made of hard-wearing materials while others have a taillight for improved visibility or add-ons for the seat bag.
Why is it Important to Purchase a Comfortable Bike Seat?
Well, there are various logical reasons behind buying the best comfortable bike seat such as,
If women riders are using the poor-quality and uncomfortable bike seats on a daily basis then, this could be extremely dangerous for their health. Therefore, it is recommended to buy a good-quality and comfortable bike seat in order to maintain a good posture.
After buying the premium-quality bike seat women riders can easily spread out the pressure.
With a comfortable and durable bike seat, riders will surely be more excited and motivated to ride their bikes for a long time without any discomfort and pain.
Final Thoughts
In the end, it can be concluded that selecting and buying the best comfortable bike seat for the bike is important in order to have memorable and enjoyable riding experience. Women bikers should pay due attention to the above-discussed factors while getting the one. Increasing all the comfort of the bike's seat can protect women riders from the bumps, shocks, & road vibrations. Moreover, increased comfort and protection can also enhance energy efficiency & speed. No doubt, the best comfortable bike seat for women givessuperior performance & lets them ride comfortably & safely.
FAQs: Answered the Best Comfortable Bike Seat for Women
The purpose of this section is to help women riders to cut down costs during the trial & error stage. In order to ensure that riders will end up with the best comfortable bike seat, it is advised to consider some important things.
Why do women's bike seats have holes?
Most modern bike saddles are designed to relieve pain and the pressure on the front bottom area and sitting bones. Therefore, there are differences between bikes for women and men in this basic aspect.
Since hips of women are wider, the rear part of the seats is wider too for more coverage and support. The hole prevents that the sitting bones don't becoming sore after hours of riding.
The hole in these seats is padded to cushion the pressure on the soft regions. Generally, the crotch has to stand the weight, the temperature, and the pressure of the body while travelling.
This design is also meant to collect less rain and keep the seat less humid. However, saddles that only have a depression in the middle are less effective. The hole on the seat also facilitates cleaning.
Can a man use a women's bike seat?
Evidently, there are many reasons for a man to use a women's bike. They don't find it uncomfortable.
Bicycles are not gendered items. Admittedly, there are structural differences between bikes for women and bicycles for the males, because their design aims to adapt to the different physics. However, there's no other reason for men to keep away from women's bikes.
Unfortunately, all bikes come with a specific design that adjusts anatomically. Guys would have no problem riding on women's bike seats, because they can adapt to the wide rear dimension with time. Chubby individuals can find it more difficult, though.
The solution is to make the seat shorter and reposition it. You can also move the seat upwards a little bit. These seats are bulkier and may take time to reduce the discomfort near the crotch.
what is the best Women's road bike saddle position?
The saddle must be set accordingly to provide comfort in the softer areas and the spinal column. There are three factors that must be covered: height, tilt, and fore/Aft.
Adjust the saddle height to prevent your feet, hands, and crotch from aching. If the saddle is too low, the hips are forced to bear the major part of the weight, and the feet and hands cannot have a good grip. You will also be in a position in which riding will be thoroughly uncomfortable.
Just make sure the saddle adjustments create a proper balance between these three points of contact.
The tilt of the saddle is another factor. It is advisable to set it in a neutral position, which meansit should be set horizontally. If the perchpoints upwards, it hurts your soft tissues. And if it points downward, you will slide down the saddle.
Putting the saddle in a bad angle can hurts the wrists.
Adjusting the Fore/Aft comes next. Ensure that the crank arm is not tilted, but put horizontal to the ground in a way that the kneecap stands just above the pedal spindle.
The best method to adjust the fore/aft of the bike is to dangle a plumb bob from the kneecap to the pedal spindle. By doing so, you will see how far forward or backward the kneecap is when you use the pedal spindle.
To put it starkly, the point of the pedal should form a right angle with the knee when rotating.