One of the most important reading and research instruments that would still be in existence for a very long time are magnifying glasses. To make lives easier we are bringing a list of 5 Magnifying Glass with Light on a Stand which lets you read hassle free. We need them in almost every field – We need them in labs for medical research and tests, we need them in law for investigations and we also need them in schools for experiments and learning. By the way if you want the best magnifying glass with light but with out stand.
It would take a whole day to list all the areas and fields that magnifying glasses are needed or required in specially the free standing magnifying glass with light which off course lets your do your stuff hands free. Specially these magnifying glasses can be useful in crafts like mud work, chalk work or any art and craft. If you're interested in magnifying glasses then here is a list of the what are the best magnifying glasses with light and stand?
List of the best 5 magnifying glasses with stand:
Here is the list of magnifying lamps.
List of 5 Magnifying Glass with Light and Stand for reading or crafts
1.Brightech Lightview Pro 2 in 1: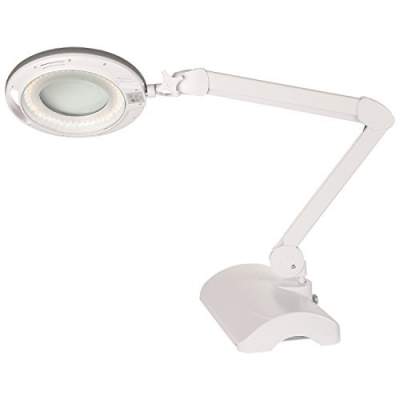 This magnifying glass comes surrounded with an adjustable light on its rims. When I say adjustable, I don't mean dimming and increasing the light, which you can do, of course, but you can also adjust the light's color and intensity to fit your environment while using it.
How useful is that? You would never have to wake your roommate up with an intense reading light and it would not make your surrounding hot.
It's like reducing the brightness of your phone just before bed. The LED light is originally white and would not heat up its surrounding.
There are so many things to love about this Bridgtech magnifying glass with light and stand. The pole is very flexible so you can turn it in any direction while reading a book, working or researching.
It's also very mobile and convertible. You can fold the magnifying glass from the neck to convert it into a table reading lamp or bedside lamp. The possibilities are really endless.
The lens of the magnifying glass is very solid, like a gorilla corning glass on a scratch-resistant phone. So it is both scratch and heat resistant. You can move it around or leave it on your favorite desk. It has a really heavy base that prevents it from falling or shaking while being used.
Things to know:
Unlike some magnifying glasses with lamps that are installed in research facilities and schools, this magnifying glass does not require any technical expertise to install it. All you simply need to do is plug it to a power source and turn it on to start using it.
Also, every part of the magnifying glass with lamp is durable so you won't have to change or replace them for as long as 20 years, this includes the lights and the stand itself.
It's one of the best table top magnifying glass with light as we think the quality is uncomparable.
2.Neatfi 1,200 Lumens Super LED Magnifying Lamp with Clamp: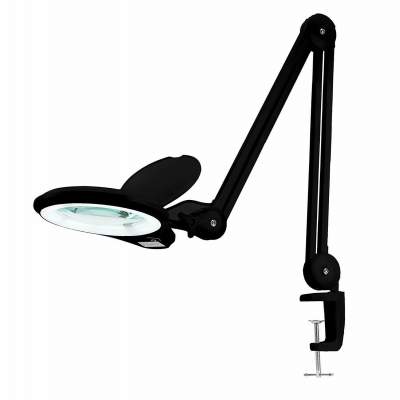 Some magnifying lamps can be knocked over mistakenly or even shake while in use. This Neatfi magifying glass is a complete opposite of what you would call an unstable or shaky magnifying glass with lamp and stand.
It comes with a clamp (for tables and chairs) that allows you tighten the magnifying glass and stop it from moving when you don't want it to. I suggest you go for it if you work in a lab or other places where you would mostly be on your own – no need to get someone to hold the light for you.
This Magnifying glass also comes with a neat 5 inch diameter lens and a micro fibre cloth for cleaning the lens when it's dirty. You can also use that micro-fibre cloth to clean your glasses, screen and the lamp of the magnifying glass. Speaking of lamps, did I mention you can dim the light of the magnifying glass to fit your environment while you're using it? Well, the energy saving bulbs of the magnifying glass can be dimmed to 4 different brightness levels depending on what you're using it for or the weather at the time.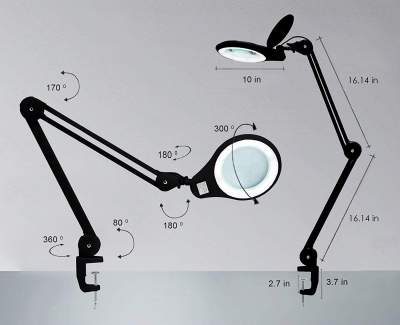 Things to know:
You can also leave the brightness at the highest level and work with it – The energy saving lamp does not get hot. Even on the brightest level, the light produced cannot damage your eyes as the lamp is built with anti-glare that protects the human eyes from damage.
The pole moves like a pair of compasses, vertical and horizontal but when it comes to lens movement, the magnifying glass and lamps can turn in every direction you need them to turn while in use. The entire device is also fold-able in case you need to rest it on a table or use the magnifying glass to inspect newspapers and solve puzzles.
3.iMagniphy 8X Lighted Desktop Magnifier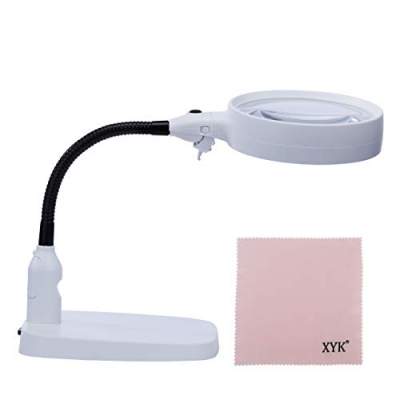 This Magnifying glass is so small that you can fit it in your school bag and no one would know you're carrying a magnifying glass with lamp. What amazes me is that it has a bigger lens than most of the other magnifying glasses out there which means more zoom for the elderly and researchers.
It is also medically recommended for adults with age-related macular degeneration and would make them see objects under the magnifying glass 8 times larger. sometimes they call it magnifying glasses with light for hobbies.
As we go along on this list you must wonder if you can find a smaller magnifying glass with lamp that you can carry around, knit with, solve puzzles with or even spy into an anthill with comfortable. Well, look no further because the iMagniphy desktop magnifying glass is one of the smallest Magnifying glasses out there and it comes with a huge 5.5 inch lens and lens cover.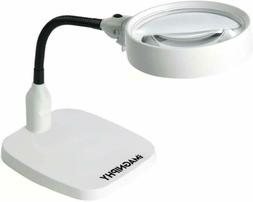 It also has an adjustable neck you can stretch and turn in any direction… I mean any direction at all without stress. It has a very thick base that is rough under so you don't have to worry about it slipping off on a shaky table. This is best magnifying glass with light for hobbies like crafts.
Things to know:
It has 6 led lights instead of 1 or 2 and they all point in the same direction for maximum illumination. this glass comes as a free standing magnifying glass with light.
Because of how small it is, you can use the lamp on a table top or just hold it while inspecting your bank notes, jewelry, sculpture or simply reading a book.
The body of the Magnifying glass is made of plastic so it's safe for kids as well. It's also safe for reading at night, only that you are required to plug it to a power source to use the lights. It comes with a 4.9ft cable for you to plug to an outlet before using the lamp of the magnifying glass.
4.JUOIFIP Large Hands Free Magnifying Glass Folding & Hand held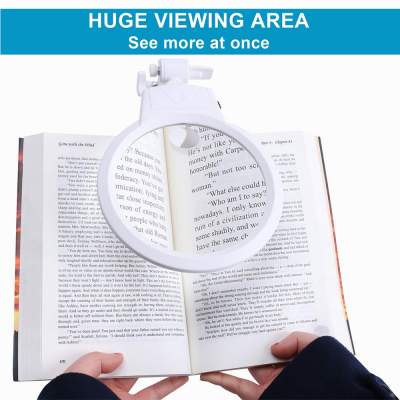 This handheld Magnifying glass might not stretch and twist in every direction like an iMagniphy 8X magnifying glass but it is very unique in many ways and I am really holding myself from not comparing the two devices because they are alike in many ways. I would tell you why this magnifying glass is worth every penny for your home, workplace or school.
It doesn't come with an adjustable gooseneck but it has a neck, (just between the magnifying glass and the stick) that you can turn 360 degrees. It can also be rotated 90 degrees at the base of the stand in case you need to fold it or simply adjust the direction of the magnifying glass and light.
Unlike the other Magnifying glasses with lamp and stand we have discussed here, this magnifying glass comes with a 3AAA battery outlet for small batteries. Yes, you guessed right, it's cordless and does not require you to plug it to any power outlet before using it. Simply insert the batteries and switch the lights on when you need them. I would recommend this magnifying glass with lamp and stand for you if you have frequent power issues and outages in your school, hospital, research facility, lab or home.
Things to know:
The fact that it does not require electricity to work also means you can keep it around children without the fear of wires and electrical dangers.
The lights of the lamp are white fluorescents that would never cause heat or overheat. It comes with a lens cloth for cleaning the lens and every other part that needs to be maintained is pretty easy to clean.
Instead of a thick sturdy base, this magnifying glass comes with a measuring square at the base. This square can be used as a ruler from time to time and you can detach that part of the base when you don't need it. The entire lamp is extremely foldable and would look like a mini tennis bat once you're done folding it.
5.TOMSOO 3-in-1 Magnifying Glass Floor Lamp with Clamp:
One of the key features that make magnifying glasses unique is how flexible they can be when they are being used. This is important because the human body cannot remain in a position for a long time.
So, sometimes, while reading, you might want to lie down and continue reading. This would mean you would need to adjust your Magnifying glass with its light to suit your position. The makers of this magnifying glass understands that concept, so they made a magnifying glass you can use while sitting, standing or lying down.
TOMSSOO 3 in 1 Magnifying glass with lamp and stand comes with a clamp as well. It is so tall that you could have it stand over you while you're relaxing on a chair or lying on a bed. The magnifying glass with lamp and stand can be raised to a massive height of 4 feet without the clamp or additional height and even 70 inches (5+ feet) with the clamp. The clamp is only needed for special occasions where you would need to attach the magnifying glass to a bed or another furniture.
Another unique highlight of this magnifying glass with lamp and stand is that you can switch the lamp to two different modes – white light (like fluorescent) and warm white (like a yellow bulb). It really depends on your eyes and what you're studying with the magnifying glass. The magnifier comes with a 4.4 inch diameter lens and as with all magnifying glasses, you can turn it in different directions while using it. The maximum magnification level of the lamp is 5x.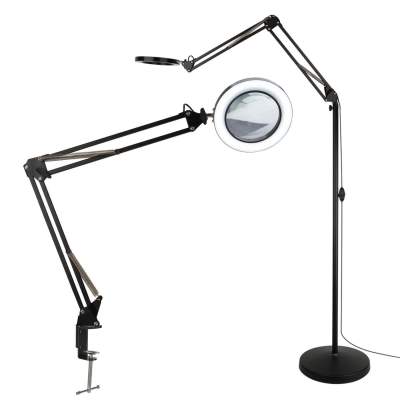 It comes with a few accessories such as screw driver, a smooth cloth for cleaning the magnifying glass and lamp, an AC adapter, a metal clamp and of course the product's manual. I would recommend you get this if you don't move around a lot or spend most of your time at home as it is quite long and would require a power outlet for you to plug and use the lamp.
Things to Know about these Best Magnifying Glasses with Lamp and Stand
They are very durable and can last for so many years
They are also very easy to clean and maintain – They all come with soft micro fibre or cloth for cleaning.
They do not require any technical experience to turn them on or get them to work.
All the magnifying glasses are safe for those with age-related macular degeneration.
They can last for as long as 15 to 20 years without replacements and upgrades.
How magnifying glass works:
What is the role of light in magnifying glass?
The magnifying glass uses lens which is convex, this makes the light go broader and makes things clearer.